Director: Tyler Perry
Writer: Tyler Perry
Stars: Tyler Perry, Cassi Davis, Patrice Lovely
Releasing Date: 21 October 2016 (USA)
Running Time: 1h 43min
Genres: Comedy, Horror
PLOT: Boo! A Madea Halloween is an upcoming American comedy movie. This movie written and directed by Tyler Perry. Ozzie Areu, Will Areu and Perry are producing the film for Tyler Perry Studios. In Boo! A Madea Halloween, Madea ends in chaos during Halloween struggling with murderers, poltergeist paranormal, ghosts, demons and zombies while watching a group of rowdy teenagers. The idea of the film Boo! A Madea Halloween originated from fictional character created Madea movie Chris Rock Halloween Top five.
Boo! A Madea Halloween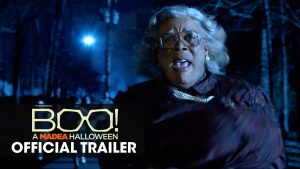 Enjoy full drama movie with you friends at your home for free. The movie going to releases in October 2016. Read more newly released and upcoming Hollywood movies reviews before going to watch or download. Here you also have option to rate movies after watching trailer and reading story line. Therefore, more Hollywood comedy and horror movies from our safe and secure source.
Movie Trailer