Director: Ben Smallbone
Writers: Chris Dowling, Tyler Poelle
Stars: Joel Smallbone, David Koechner, Jim Parrack
Releasing Date: 14 October 2016 (USA)
Running Time: 1h 37min
Genres: Drama, Romance
PLOT: 'Priceless' is an American thriller based on real events, an incident of trafficking. This movie Directed by Ben Smallbone and produced by Steve Barnett. This drama story tells of James Stevens, who after losing custody of her daughter and the tragic death of his wife, can not maintain steady job. Therefore, Stevens, played by Joel Smallbone, is committed to driving a truck, no questions asked.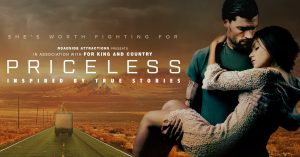 However, soon realize that actually is delivering two girls as part of a project of trafficking. You must decide what to do before time runs out. The unlikely hero fights against the forces to which front and finally, must discover the life that was destined to live. Check More Drama Movie reviews and also give yours.
Priceless Trailer